Zebes is, unlike my previous planets, from a video game. Metroid.
Metroid is a game staring Samus. And for being such an old video game franchise, and having Samus be a woman, Metroid is awesome. (Oh dearie me, is my feminist side showing?) Samus is a bounty hunter and the main character of the game.
Samus was raised on Zebes, and four games of the franchise were set there. Zebes has a huge underground cave network. One of those caves holds most of the planet's vegetation. I'm guessing if they didn't need a lot of sun, they were carnivorous instead. Plants gotta eat something. Plus, considering the planet had acid rain, I'm not surprised the plants moved underground.
And now that I'm thinking about that, how would acid rain affect natural water sources? Would it poison rivers and lakes? Hmmm. Good thing Zebes's main water supply was also underground.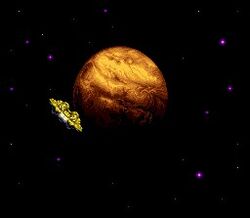 Samus approaching Zebes - Source